Covid-19 has affected us all. The world has been shaken and similarly to all other events, our long-awaited MyData Spring Community Meeting in Amsterdam couldn't be organised as planned. We took a decision to move it online and despite the fact that it was put together on a tight schedule, it gathered together more than 100 participants from 19 (identified) countries from Trinidad and Tobago to Australia, representing Business, Legal, Tech & Society sectors. This completely exceeded our expectations! In comparison, we had 60 people registered to the physical meeting in Amsterdam.
We would like to thank MyData Community for your time, engagement and trust – you made this meeting a great success! 
Let's look back together at those two wonderful days: what we talked about, what we decided and how are we going forward in the months to come. 
Highlights from the program
Thursday 
The Big Picture: MyData MyData & EU Data Strategy
Board Chair Sarah Medjek, General Manage Teemu Ropponen and presented the latest development concerning the strategy of MyData Global and Debuty General manager  Viivi Lähteenoja tied it up to the newly published EU Data Strategy where MytData movement was mentioned (insert link to blog post). 
Watch the recording here:
Understanding the ecosystem: PDS & Netherlands & results from the Operators Workshop
Wil Janssen from the MyData Local Hub in Netherlands and Innovalor presented what's happening in the ecosystem, especially in Dutch personal data spaces (PSD) landscape and also the results of the workshop held on Wednesday about MyData Operators.
Watch the recording
What's up in MyData Community: 5×5 pitches
We heard five excellent pitches from the community
Paul-Olivier Dehaye: "Coronavirus numbers and an inevitable solution: MyData" – Presentation materials uploaded here later
Stefaan G Verhulst: "Call for Action: Toward Systematic, Responsible and Sustainable Data Collaboratives 4 Covid-19" – Presentation materials uploaded here later
Alessandro Carelli: "MyData Design Chronicles" " – Presentation materials uploaded here later
Waliyah Sahqani: "Making employee data transparent – designing to enable and empower" " – Deck here: – Presentation materials uploaded here later
Matthias de Bievre, Olivier Dion: "A New Governance Initiative" " –Presentation materials uploaded here later
Pop up Open Space: "A New Governance Initiative" 
Friday 
Workshop on MyData Community in Action
The Community Lead SIlle Sepp led the participants to a hands-on workshop where we mapped the different needs & offers from the community.
PSD Personal Data Stores -workshop 
Hosted by Christoph Fabianek, Salman Farmanfarmaian and Dixon Siu
The goal of PDS's is to allow individuals the possibility of storing their own data under their own control – Presentation materials here 
Join the work in MyData Slack:  
Read the intro: https://mydata-global.org/common-endpoints
Workshop: How to design the ultimate MyData app 
Third workshop about designing the perfect MyData App was hosted by the community members Peter Eikelboom from Devolksbank, Marie-José Hoefmans from Schluss  and Mike Alders from IRMA app.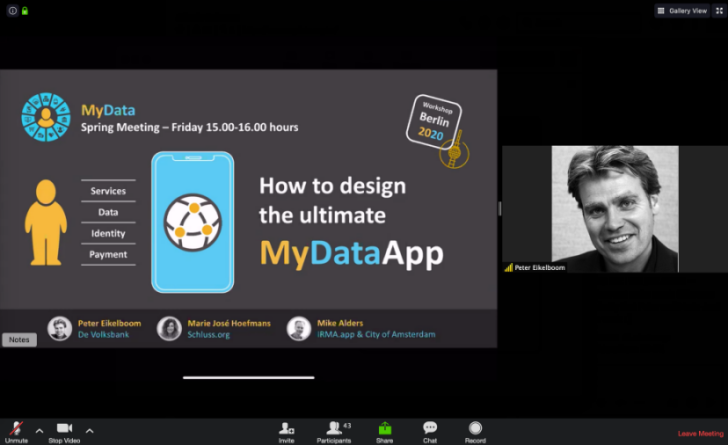 Pop-up Open Space
"Demo and Interactive Discussion on Possible Use of JLINC App in MyData/ Coronavirus Scenario" 
"Disinformation & Trust in a Pandemic"
Especially thanks to the Hub Netherlands, Wil Jansen and Marlies Rikken for hosting the event and creating the Dutch atmosphere virtually. 
What's next?
"The situation may be shit, but it's our fertiliser for the future" – Lennart Meri, President of Estonia (1992-2002)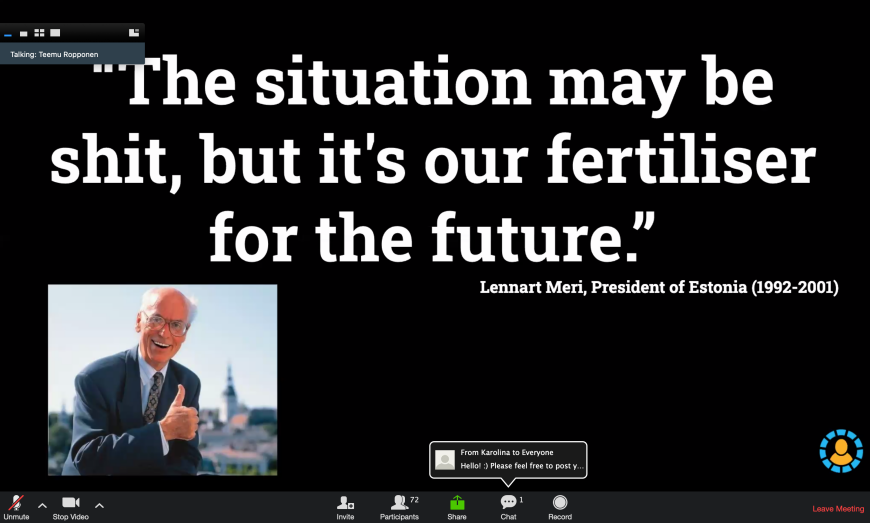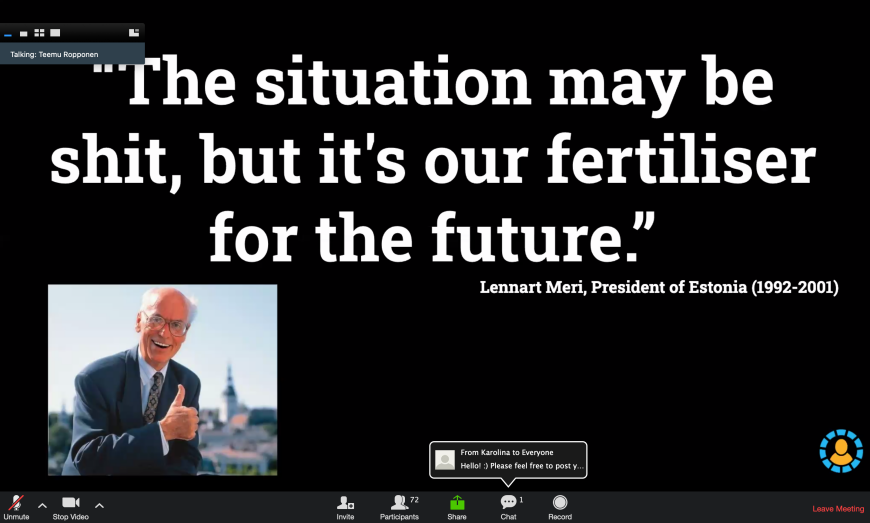 We have a challenge FOR YOU to start gardening for a brighter future.
SIGN, JOIN, READ, SUPPORT: