Personal data holds the key for sustainable city life
Personal data is a key building block for innovative smart city services. However, as seen in cases like the Sidewalk Labs' effort in Toronto, concerns about governance and unclear usage of personal data can create pushback from the public and erode trust. In response, cities around the world are adopting approaches to personal data management that put people in control of their data. This human-centric approach both protects and empowers residents, whilst encouraging the growth of data-driven services.
The historical trend towards urbanisation means that cities will continue to grow in the decades to come. As more and more humans live, work, and play in urban environments, managing the services required by residents to make cities function well becomes more of a challenge. According to the World Bank, by 2050, with the urban population more than doubling its current size, nearly 7 of 10 people in the world will live in cities. Today, with more than 80% of global GDP generated in cities, urbanisation can contribute to sustainable growth by increasing productivity, allowing innovation and new ideas to emerge. 
Enormous amounts of personal data are generated by city residents and collected by city administrations, companies, and organisations each day. This data holds the potential to unlock innovative services. 
Data-driven smart cities have opportunities for new business, improved daily lives, and efficient public services
Cities have already been fertile ground for data-driven services, with globally recognised apps for food delivery, ride-sharing, and other mobility services quickly becoming commonplace.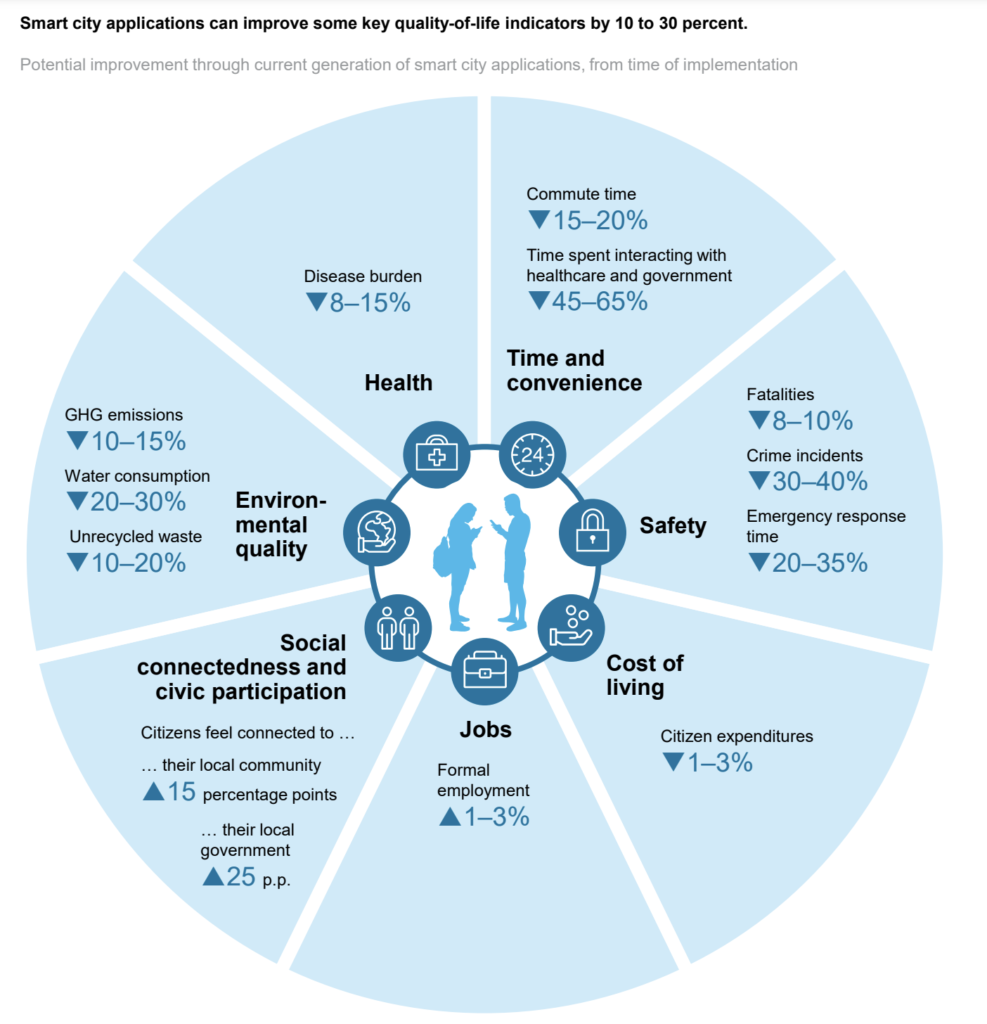 CAPTION: Based on McKinsey Global Institute's assessment, smart technologies could improve key indicators by 10-30% in many quality-of-life dimensions, and the current generation of smart city applications could help cities make significant or moderate progress towards 70% of the United Nations' 17 Sustainable Development Goals.
According to McKinsey Global Institute, key opportunities in smart cities applications are not only improving our everyday lives (saving time and giving convenience; safety) but they are also solving some of the biggest issues of our time (sustainability; future of democracy; health and aging societies). All of these are highly relevant areas, and the MyData Declaration can be useful in each.

Cities as drivers of human-centric digital services
As urban environments, cities are fruitful testing grounds to develop and pilot innovative technological solutions and services. People living in cities have various lived experiences in the context of the built environment, transport and mobility, and social services that offer a basis for a number of possible use cases.
As public administration entities, cities are also important data holders with access to a wealth of personal data about citizens and visitors (in addition to non-personal data about the city).
Local governments are accountable to their citizens and have a duty to act in those citizens' service. They are more immediately and tangibly present in their citizens' lives than higher level governments, such as regional and national authorities.
Furthermore, cities can catalyse sufficient investments to realise their strategies to develop more human-centric digital services.
Cities are piloting MyData principles globally
Helsinki, La Rochelle, and Lyon are adopting MyData Global principles. Further afield, cities such as Antwerp and Ghent in Belgium, Nantes in France, Zug in Switzerland, New York and Berkeley in the USA, and the province of Gyeonggi in Korea have also started initiatives in this direction.
Some of the use cases for MyData Global in the smart city context include understanding and modifying personal behaviour (transport, energy, etc.) and cutting time and steps for administrative processes.
The Ecolyo app in Lyon, France, for example, shows the power of a personal application that ties into the greater sustainability goals of the city. Ecolyo is a personal data service that allows citizens to visualise their gas, water, and electricity consumption data, compare their data with an ideal consumption profile, and identify opportunities for trimming their bills. The design of this service, which includes a gamification functionality, builds on a transtheoretical model of behaviour change which aims to stimulate eco-positive responses in citizens.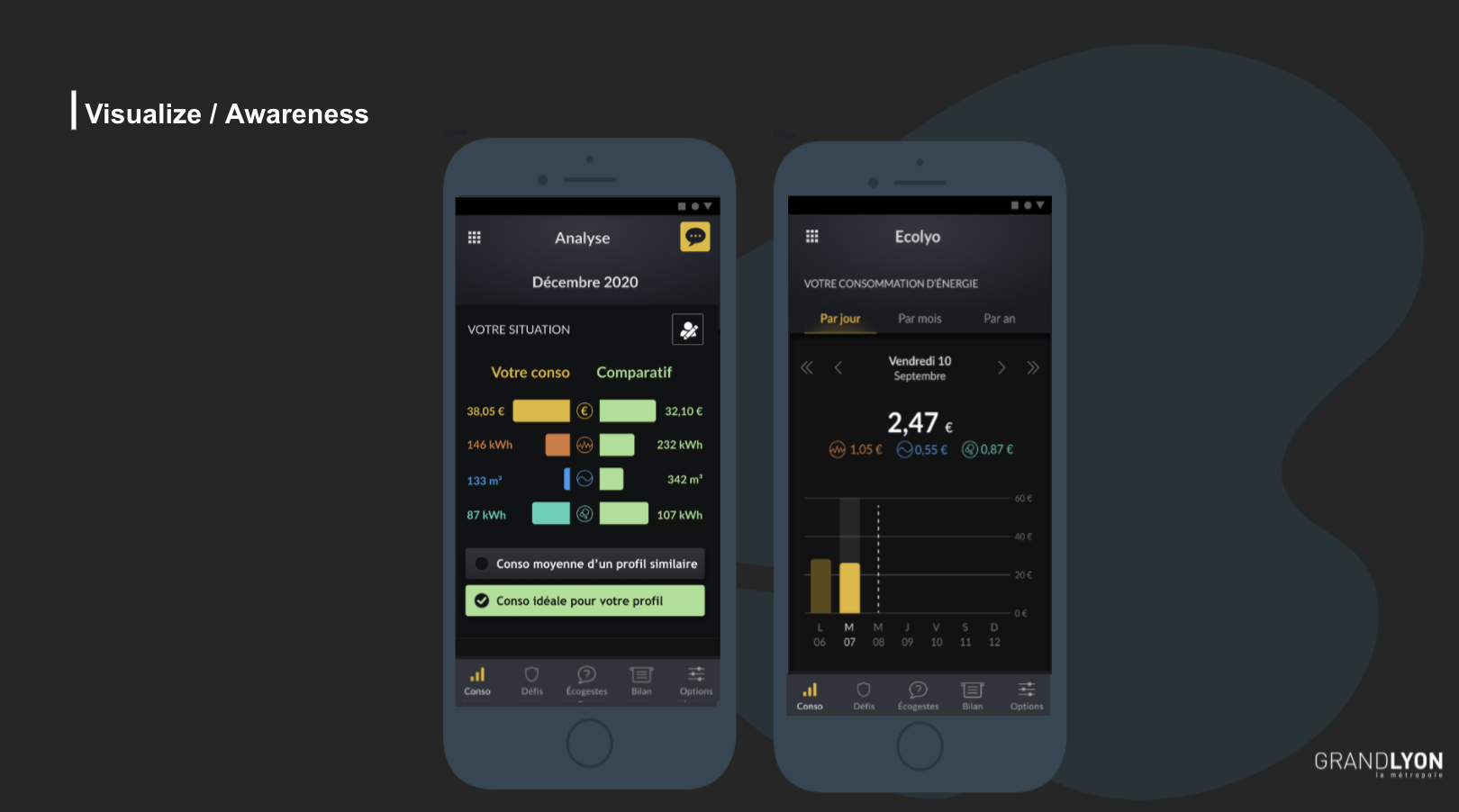 Caption: The Ecolyo app for visualizing electricity, water and gas consumption features gamification and builds on a model of behavioral change that aims to stimulate eco-positive responses in citizens.
MyData Global's recent activities in smart cities
A recent joint project launched by MyData Global and the Helsinki-Uusimaa region called H3C – Human-centric cities and companies (H3C) will put into practice the MyData Global principles by building capacity and collaboration between cities and companies. H3C will help cities and companies collaborate and gain skills by implementing the MyData Global principles as well as understanding new legislation and emerging standards. The project aims to break down barriers in the flow of personal data leading to lower costs and better services for cities and residents, whilst creating new business opportunities for companies.

CAPTION: The H3C – Human-centric companies and cities event on 23 September, 2021, 8:30 AM EET features the City of Espoo, Vastuu Group, and the City of Lyon presenting their MyData cases.
By implementing the MyData Global principles, cities are developing trustworthy, personalised, and improved digital services that empower their residents.  Cities are able to save costs and provide better services. Residents are able to use services that are proactive and personalised to their needs. Companies are able to use personal data innovatively, creating new business opportunities. By enabling the flow of data and putting city residents in control, everybody wins.
Register for the H3C –Human-centric companies and cities event on 23 September, 2021, 8.30 AM EET here. The event features the City of Espoo, Vastuu Group, and the City of Lyon presenting their MyData cases.
________________________________________________________________________________
Read more

Read more about the role of MyData Global in smart city development in the State of MyData 2021 Report (May 2021), written by Viivi Lähteenoja and Sille Sepp. 
Turning data into value: European lessons on unleashing the transformative power of city data (July 2021), published by the Urban Agenda for the EU initiative, features MyData Global, and in particular the efforts of Lyon and Rennes, the French cities active on leveraging personal data.   
The World Economic Forum, together with the City of Helsinki, published a white paper,  Empowered Data Societies: A Human-Centric Approach to Data Relationships (September 2021). The publication also highlights the work of Helsinki and features the MyData Design Toolkit, developed by the #Design thematic group.
The McKinsey Global Institute wrote a report, Smart cities: Digital solutions for a more livable future (June 2018).​​
In her report Whose streets? Our Streets! (Tech Edition) (August 2021) Rebecca Williams calls for action to ensure, firstly, the technology in our public spaces protects and promotes democracy and, secondly, that we do not continue down the path of an elite few tracking the many.